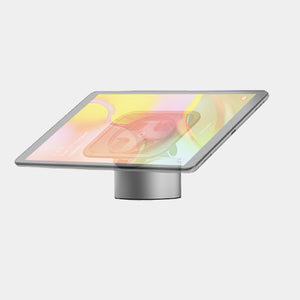 What's in the box:

Connect POS Pivot Stand
Tablet Adapter. Compatible with all tablets.
A low-set countertop stand designed to blend seamlessly into the interior of any environment, putting an emphasis on human interaction, while keeping your point-of-sale hardware virtually invisible.

Features

Mount your device to the stand with a simple twist + click.
Display your device in either portrait or landscape orientation with ease.
A low-set form factor that blends seamlessly into every environment.
Keep your device locked securely in place, and stay stress-free.
Can be screwed down or securely adhered to almost any countertop.
Position your device at the perfect angle with a fully adjustable pivot point.